Industrial parts washing machine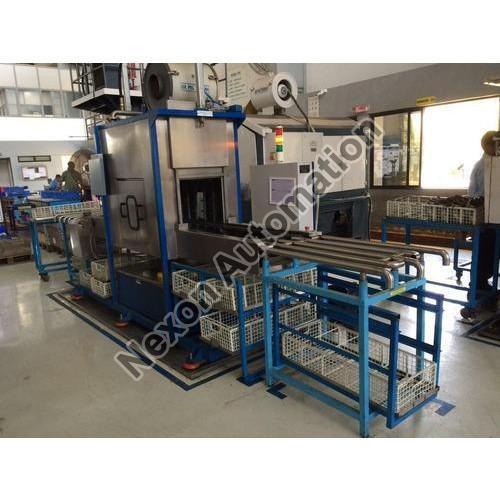 Price :
87.50 Lac
/ 1600000
MOQ : 1 Piece
Business Type
Manufacturer, Exporter, Supplier, Importer
Brand Name
Nexon
Capacity
300Kg/hr
Frequency
50 Hz
Click to view more
Product Details
Automation Grade
Automatic
A typical Nexon automation washing cycle in an industrial parts washing machine involves several stages, such as pre-wash, wash, rinse, and drying. Here's a simplified overview:
Pre-Wash: The machine may include a pre-wash stage to remove large debris or loose contaminants from the parts. This can involve manual or automated processes, such as brushing or air blowing.

Wash: The wash stage involves the application of cleaning agents, detergents, or solvents to the parts. Depending on the machine, this can be achieved through high-pressure spray jets, immersion, or agitation. The cleaning agents help dissolve and remove stubborn dirt, grease, or oil from the parts' surfaces.

Rinse: After the wash stage, the parts go through a rinsing process to remove any remaining cleaning agents or residues. This can be done using water sprays or immersion tanks.

Drying: The final stage involves drying the parts to remove excess moisture. Industrial parts washing machines may use heated air blowers or other drying methods to ensure thorough drying and prevent moisture-related issues such as corrosion.
It's important to note that specific industrial parts washing machines can have additional stages, such as ultrasonic cleaning, filtration systems, or customizable settings based on the specific requirements of the parts being cleaned.
Looking for "
Industrial parts washing machine

" ?
1600000